Disclosure: This post includes my personal Ellie Subscription Box Review for which I was not compensated but it may contain affiliate / referral links. Read the full disclosure.
Ellie February 2018 Review
Ellie Active Wear Subscriptions offer both a 5 item box (outfit and 2 fitness item) or a 3 item (outfit only) box. New to 2018 Ellie now offers outfit selections for your active wear outfits.
3 Item Box – $39.95
5 Item Box – $49.95
Ellie February 2018 Review
Ellie February 2018 has me embracing a more romantic style vibe when it comes to my active wear choices. The three outfit theme options are La vie en rose, Sweetest Thing, or the Give Me A'more.
I received the Give Me A'more outfit.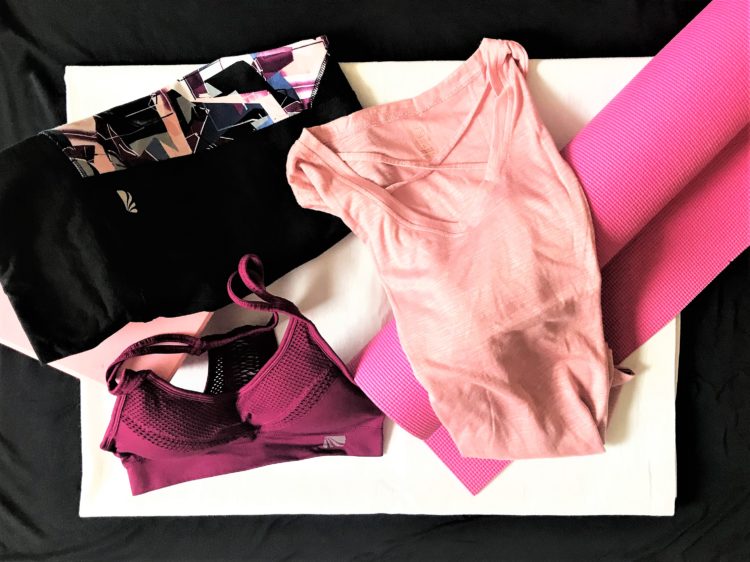 Crisscross Layering Top
LONG SLEEVES and a loose fit – it's like the shirt was created just for me. I love this top.
The color is a lovely and soft muted pink. The v-neck front and crisscross detail is undeniably an element that gives the top a little extra splash while offering functionality.
I love that the crisscross design allows for me to still do plank without the shirt hanging down giving others a sneaky peek.
Ellie February 2018 Review
Skylar Sports Bra
It's a moisture-wicking sports bra intended for low impact activities, or just hanging around. Many people wear sports bras religiously as their undergarment of choice.
The deep plum color is absolutely brilliant and adds so depth and contrast when paired underneath a light colored tank or shirt.
And the detailing stitching is so elegant. I especially love the back racer design with the peek through stitching.
Ellie February 2018 Review
Carolina Shape Enhancing Capri Legging
These capri leggings combine, function, style, a modern flare. But more importantly – shape enhancing technology to bring you the perfect legging.
The panels are sewn together in a way that truly does enhance. The black fabric is much more of a knit that a spandex. It has all the softness I want and the shape control I need. There is a minimal amount of black mesh paneling up the sides on the calf. And the geometric patterns is a shinier spandex fabric.
The Ellie February 2018 outfits are all inspired around romantic colors and "love in the air". I am so happy with the outfit Give Me Amore.
I'm not a modern muse or necessarily someone who incorporates feminine colors into my style so it was nice to introduce my style to it's romantic side.
Je vous remercie du fond du Coeur, Ellie!
Ellie February 2018 Review
How to Order Ellie:
Use this link to signup for the Ellie Subscription Box

What do you think of the latest Ellie?