Disclosure: This post includes my personal Wantable Style Edit Subscription Box Review for which I was not compensated but it may contain affiliate / referral links. Read the full disclosure.
Wantable Style Edit Review August 2017
It's no secret I love Wantable subscriptions. I love everything about them, the products, the ease, the communication. If you've considered a subscription you'll love this Wantable Style Edit August 2017 review.
I decided it was time to try Wantable's Style Edit. I've been hesitant with any subscriptions that are clothing specific because for me personally, clothing choices are precise and specific.
I'm not saying I'm fancy or unique, I'm specific.
For a $20.00 styling fee, they pick out and send you clothes based on your answers to the profile. The risk on this is so low if it failed I can handle it. I mean let's be real, I've lost my fair share of cash that ended up in my laundry because it's still in the jeans I had been wearing the night before.
All the clothes are sent to you packaged and presented beautifully.
You have 5 days to try them on and send back (in the prepaid envelope) what you don't want. You keep the items you want and they will charge your account.
Eesy Peesy Right?
Let me take you inside the Wantable Style Edit August 2017 Box give you a little peek into where each item ended up, in my closet or in the return envelope?
First Up – Kelsey Crossbody in the color Taupe – Katie Q. retails for $48.00
Alright, this bag is plenty cute enough, but I don't really carry purses often enough to justify keeping it. I'm more of a clutch or wallet kind of gal.
And that's really it – I wasn't bummed and I was thrilled.
Lauren Necklace in Silver by Wantable retails for $38.00
This was so so so adorable. For those who don't know I'm not someone who wears a lot of jewelry. I wish I did wear jewelry more because I know the impact it can have on a finished look. I think I'm just lazy and find it to be more of a chore to put it on and take it off.
So I was torn on should it stay or should it go. This necklace caused me some decision fret. Literally, right up until the last-minute before the postman took my return package I was undecided.
I ended up returning it, here's why – the little triangles had a tendency to flip, and I have serious issues when it comes to symmetry. I knew that my mental health would be tested if the triangles weren't constantly perfect.
Here comes the clothing which was the real meat I wanted from the Wantable Style Edit August 2017 box.
Printed Knit Top by Le Lis – retails for $39.00
I love striped knit shirts, they are French pair-fesss-eee-aaawn.
This would have been the perfect shirt for me if I didn't already have 3 others almost identical in my closet. (But that tells you just how personally they really do tailor your edit to your style profile.)
The tiny touch of floral pattern is a perfect little stand out, but not obnoxious. Tres Magnificent!
Shucks Wantable, I reeeeelly heart you guys!
Black Pullover Sweater with Cut Out Neck by DEX – retails $50.00
Again…I have 3 possibly 4 black sweaters in my closet. They each have their own special place in my heart for their unique purpose. One black sweater can't possibly accomplish each vibe.
Buuut…do I need another black sweater? Why yes, YES I DO! Because this black sweater is different in what if offers me. Those delicately refined cut outs!
Welcome home black sweater, welcome home!
The Catherine Boyfriend Jeans by KUT in the color doubtless – Retail $89.00
I love KUT jeans. I own KUT jeans…yet not this style/cut. WOOT WOOT.
Seriously these were absolutely perfect and they satisfy my quest to find a pair of jeans to go with a particular snuggly oversized sweater. The denim –  soft and loose fitting but still with shape and definition.
I was SOOOO BUMMED when I tried the jeans on and they were just a wee bit too big. I MEAN SO BUMMED. Look away, just look away, I don't want you to have to witness my sadness.
I thought I could live with it, or have them altered. I even wondered if I should ask Wantable if they could send them to me in a different size?
Important to note here…this wasn't Wantable's faux pas…they sent me the sizes I indicated. I just probably size down in KUT jeans. OR I lost a few pounds…YES…that's what I'm running with…I lost a few.
This Black & Silver Sparkle Sleeveless Sweater by RD Style – retails $75.00
At first glance I thought I'll never wear it, let me explain to you why.
I love sweaters, I love black, I love sleeveless! But the tiniest amount of sparkle or shine and I feel like a tool. I just can't ever pull it off; LIKE EVER.
Ask my mom…even when I was little if my mom put me in anything girly, sparkly, frilly – I looked awkward. It's just not in my DNA I guess.
So when I saw the silver sparkle I knew our time together was brief. I put the sweater on for the purpose of being able to snap a photo to share with you all. Quick once over in the mirror and "dang that's cute…yea that's really cute!"
It draped beautifully, it stretched in all the right places. I loved the way this looks on. It truly fit my frame so impeccably.
No Joke – probably the most flattering fit I've ever I've ever worn in a sleeveless sweater. And let me assure you…I've owned far more than too many sleeveless shirts and sweaters in my lifetime.
And now my favorite item…duh duh duhhhhhhh
Plaid Boyfriend Shirt Chalk Tartan by Santucary – Retails for $79.00
This is THE fall transition shirt.
As we're approaching the fall the weather here in Colorado has started to cool. The temperatures will rise in the day to a point that is hot, and I hate being hot.  But the temps also dip low enough that it requires more than standard summer attire.
It's all about the LAYERS society!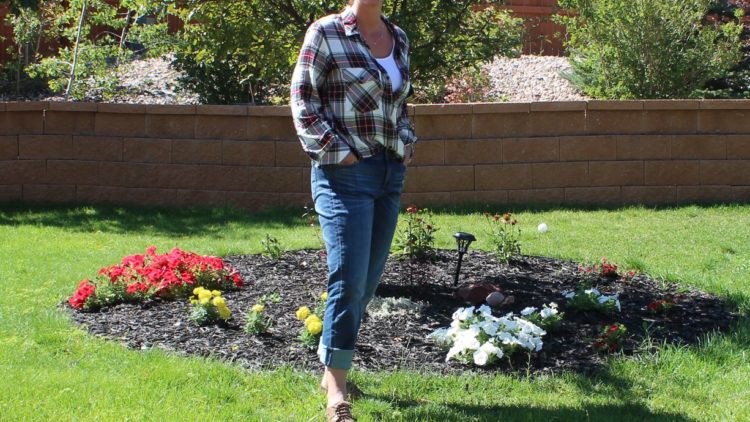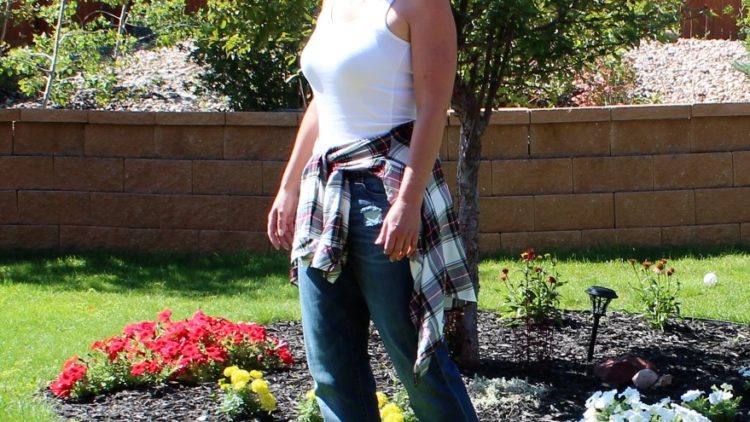 I'd like to share with you a true story from my college days.  It's about a shirt that a friend of mine wore one autumn day to class. It was a plaid button-down.
Yep – that's it, a plaid button-down.
I don't know what it was about this shirt but I couldn't take my eyes off her (seriously, probably in a freaky way) as she came in the class and walked across the room to her seat.
I've never forgotten that shirt. Oh sure, I tried over the years to replicate the look, albeit unsuccessfully. Yes, I attempted to buy plaid button-down shirts that were similar. It was an unrelenting pursuit to create the look too, sadly it was never right. And, we're talking 20 years' friends…I couldn't ever get it right.
This plaid shirt – got.it.right! I finally pulled off the f'ing plaid shirt!
My error – I was choosing plaid shirts with warm colors. They made me look like sh*t, you see I have cool undertones. EUREKA!
Wantable – Style Edit August 2017
Well, fellow Subscribers of the Society – there it is…my first Wantable Style Edit and it's further validation of my admiration and appreciation for them! HUGE fan.
They just get it right every stinking time.
I love their website, style quiz, customer service, follow-up, sophistication, items, hand written notes!
Ultimately, in the end, I kept two items; I'm good with that. I'm actually thrilled with it. They are two items I own and I never even broke a sweat.
And let's not forget – I would have three, had I not lost weight. Wink Wink
Ohhhh Waaaaantaaable…I'm ready for my September Style Edit!
How to Order Wantable Style Edit Subscription:
Use this link to signup for the Wantable Style Edit Subscription Box

What do you think of the latest Wantable?