Disclosure: This post includes my personal Stitch Fix Subscription Box Review for which I was not compensated but it may contain affiliate / referral links. Read the full disclosure.
Stitch Fix January 2018 Review
For a $20.00 styling fee, Stitch Fix is a superb style subscription catering to all your fashion whims. In this Stitch Fix January 2018 Review see why Stitch Fix is climbing quickly to the top of my list.
Mystree / Skylar Jacket – Purchase Price $84.00
Someone hand me a petite ceramic espresso cup and an over-sized croissant because this black jacket has me feeling more French that a poodle in a Paris market.
The Skylar jacket is black and chic. It's fit is that of a couture item, but the fabric allows the perfect amount of stretch making it comfortable everyday wear.
Stitch Fix January 2018 Review
41 Hawthorn / Sharon Thumb Hole Detail Pullover – Purchase Price $78.00
Once not so long ago thumb holes were a trend only in active wear. Thanks to the fashion fairies who made it happen, the trend has finally found its well-deserved way and spot into street wear.  I'm a huge fan of this trend.
But it's not just the thumb holes that have me captivated in the 41 Hawthorne pullover, the waffle print. It creates the illusion of three quarter sleeves – genius.
Oh and the thick soft fabric and chunky turtleneck has earned this sweater two thumb holes up in my fashion view.
Stitch Fix January 2018 Review
Articles of Society / Tiana Skinny Jean – Purchase Price $64.00
It's that time of year when I work out less, eat more, and enjoy every minute of it without guilt. These Articles of Society skinny jeans are made for winters in my world.
They're so black they will camouflage fluffy areas AND have the perfect amount of stretch. The kind of stretch that holds you in but also moves when it needs to.
Stitch Fix January 2018 Review
Staccato / Madelene Raglan Roll Sleeve Knit Top – Purchase Price $48.00
The top is absolutely the perfect companion to add any wardrobe. I love the primary foundation colors that can really be paired with any color pant. Versatility is key!
The Staccato Raglan style top's modest and unique brown suede sleeve tie-ups and pocket line are perfect. The detail adds impeccable impact to take a simple knit top and make it stand above the rest.
Stitch Fix January 2018 Review
Fate / Rubi Colorblock Slit Sleeve Pullover – Purchase Price $58.00
I instantly fell in love with the Fate top.  It's a combination of coco chic and bashful edge.
I have many pieces of clothing in my closet that I've had for 20 plus years. Great tops that stand the test of time becoming a staple in my wardrobe capsule must have two things:
A classic foundation of lines and cut
One unique discreet detail
The pullover sweater with its crisp and classic black knit bodice paired with white color block slit bell-sleeve is the winning ticket earning it a spot in my all-time favorites list.
Stitch Fix January 2018 Review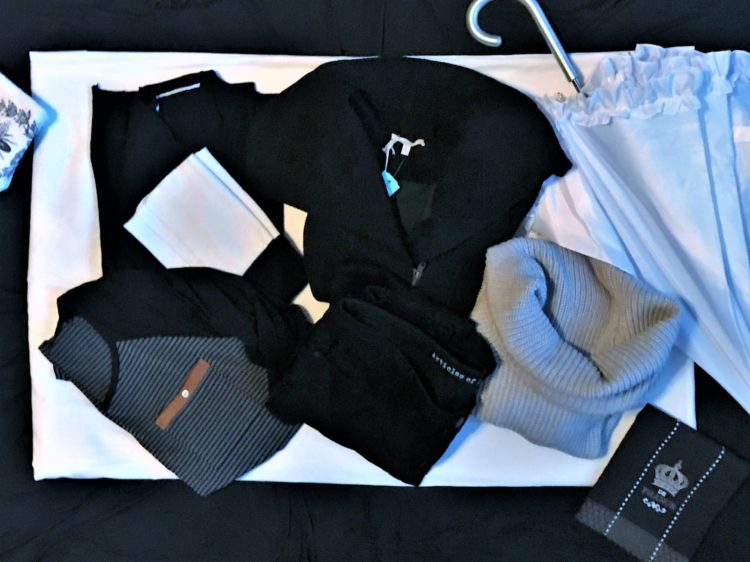 If you want to see how the above items actually fit and look on, click here to watch Subscription Box Society's unboxing and try-on video.
Remember if you love these items and they make it to your list of "must haves" you can request these exact items in your own personal Fix. I'm not sure if they allow you to pick your stylist, but mine was Kathryn and I hope she sticks around as my stylist longer.
How to Order Stitch Fix:
Use this link to signup for your own Stitch Fix Subscription

What do you think of the latest Stitch Fix?