Disclosure: This post may contain affiliate / referral links. Read the full disclosure.
We scoured the internet for the best men's subscription boxes as reviewed by the top subscription box reviewers in the industry. In the great big world of subscription boxes, we can all agree that list of available subscription boxes for men keeps growing and which means the decisions on which ones to try keep getting more confusing. So with no further aideau here are the favorites: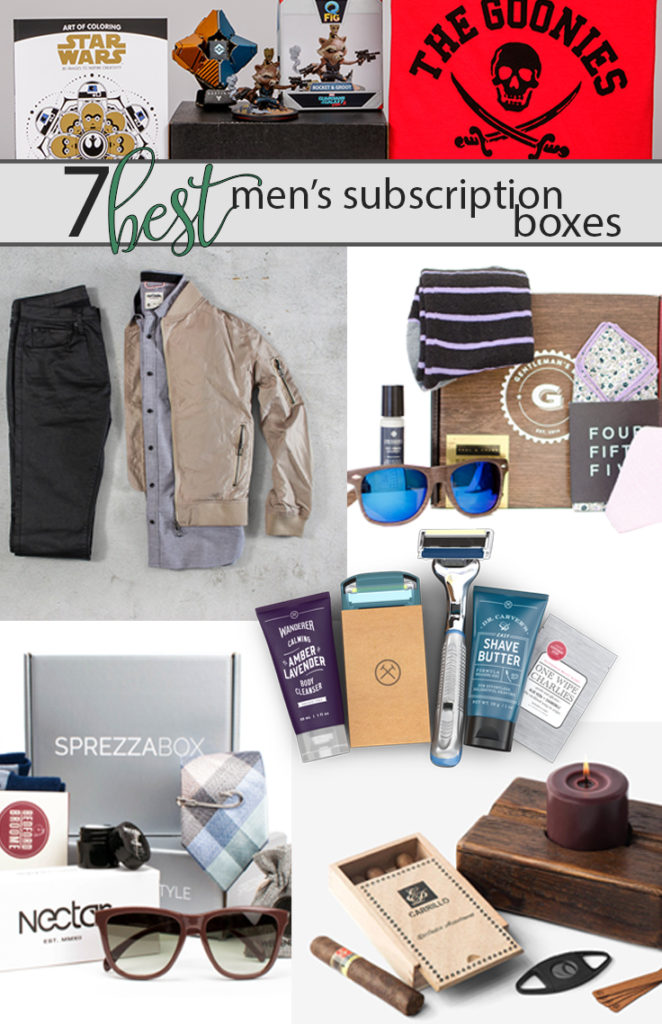 1. Gentleman's Box Review – Subscription Box Ramblings
Subscription Box Ramblings tell us in her June 2017 Gentleman's Box Review that this the first subscription box that caters to the modern gentleman. Each month honors a noteworthy gentleman from the past or present. In each box, she says you can expect to find four to five products hand-selected by the Gentleman's Box team. Her review totals the box items up to a value of $102. She believes that is an outstanding value for a $25 men's subscription box working out each item to about $6.25!
Read the full Gentleman's Box Review from Subscription Box Ramblings.
2. Sprezza Box – Subscription Box Mom
SprezzaBox is a style subscription box for men and each box comes with 3-4 lifestyle items and 1 grooming product per Subscription tells us in her review.  She says that boxes are $28.00 per month and they are filled with stylish and trendy clothing and accessories designed to help men be more stylish. Her review concludes that the box she reviewed was a nice box and had a total value of $147.00.
Read the full Sprezza Box Review from Subscription Box Mom.
3. Bespoke Post – Hello Subscription
Bespoke Post is a unique subscription box for men. According to Hello Subscription, the monthly limited-edition boxes are built around a central, unique theme, and there are usually two or three new boxes to choose from every month. You can also skip the month if you're not interested in any of the available boxes. Tom at Hello Subscription also shares that Bespoke Post offers several themes of curated boxes, including apparel, hobby kits, cuisine, decor, and more. We didn't see an estimated total for the reviewed box, but overall the reviewer, and his stomach, were very happy! The cost of the monthly box is $45.
Read the latest Bespoke Post Review from Hello Subscription.
4. Five Four Club – My Subscription Addiction
According to My Subscription Addiction, Five Four Club is a monthly men's clothing subscription box that sends you on average 2-3 new clothing pieces or accessories based on your answers to a brief survey when you sign up to find out your sizes and style preferences. In the review we read, Eric curated his own selections so he clearly was going to love everything he selected but you also have the option of selecting a mystery box, which we have always been extremely happy with from our own experience with Five Four Club. The mystery box is $60 monthly but could cost you more if you choose to select some of your own items which may increase the price of the box.
Read the latest Five Four Club Review from My Subscription Addiction.
5. Trendy Butler – What's Up Mailbox
Trendy Butler, according to What's  Up Mailbox, is a men's subscription box that delivers brand name and trendy menswear based on a style profile that you complete upon subscribing (sounds familiar no?). Here is where WUM says they are different – they tell us that not only do they take your profile into consideration when selecting items for you, they also take into account your location to send you appropriate weather clothes. OK, that is actually pretty cool. We have tried Trendy Butler too, and at $65 per month, it usually works out to a pretty good deal. What's Up's husband apparently loved what was in his box so much, he wore it two days in a row. That screams success – don't you think?
Read the latest Trendy Butler Review from What's Up Mailbox.
6. Dollar Shave Club – Money Saving Mom
Money Saving Mom was initially pretty skeptical about this box. But despite her cynical attitude, she said she was surprised that reader after reader after reader of hers kept highly recommended Dollar Shave Club to her after reading her posts so she decided to give it a try. In her first $6 box she recieved the following items: 1 razor handle, 4 razor blade cartridges, and a shave butter sample was super impressed with the quality. My husband also uses Dollar Shave Club and likes the razors but his favorite products are the Shave Butter and the the One Wipe Charlies. These items increase the price of your order but, per my husband, are worth the difference. This definitely one of the best men's subscription boxes that gets two thumbs up!
Read Money Saving Mom's full Dollar Shave Club Review.
7. Loot Crate – Find Subscription Boxes
According to Find Subscription Boxes, Loot Crate is a monthly subscription box of geek and gamer gear. They tell us that each Loot Crate box features $40+ worth of hand-picked products geeks and gamers will love – from shirts to gadgets to collectibles and more. Hmm, I have a gamer at home. This sounds promising. For $15.99 monthly, you receive 6-9 items that change with a monthly theme. Find Subscription Boxes review a Gaurdians box and was pretty happy with the contents. We included Loot Crate in the 7 Best Men's Subscription Boxes article because this is a popular box and because we wanted to include a box for men who are not overly interested in clothing and accessories. Loot Crate offers several other themed boxes to select from as well. Win win!
Read the latest Loot Crate Review from Find Subscription Boxes.
That's it! Running the gamut from clothing, to grooming, to lifestyle options, our list of the 7 Best Men's Subscription Boxes is complete with something for every man in your life.
What do you think are the best men's subscription boxes? Let us know so we can check them out!