Disclosure: This post includes my personal Wantable Subscription Box Review for which I was not compensated but it may contain affiliate / referral links. Read the full disclosure.
Wantable December 2017 Review
I'm quite aware it's now officially January 2018, meaning this Wantable December 2017 Review is a bit late. But I had a lot of living to do in these new "cooler than me" duds from my Wantable December 2017 Style Edit.
Wantable December 2017 Review
Coalition / Faux Leather Moto Jacket – Purchase Price:$69.00
First things first…the zipper pulls are not a white fabric, that's just covers to protect the shiny gold color hiding beneath.
I love this jacket. It's absolutely the perfect item to take your style game from awesome to freaking awesome.
Don't think you can pull off freaking awesome? Give it a try – I bet you can in this jacket!
I thought for sure the purchase price on this would be WAY more expesive. It's faux leather but there is nothing that feels "pleather" about this jacket. It's soft and thick and rugged.
The back of the jacket has the perfect stitch detailing creating a very figure flattering silhouette making me look long and lean in all my fluffy spots.
Wantable December 2017 Review
Articles of Society / Mya Skinny Jean – Purchase Price: $64.00
I'm such a sucker for jeans! Is it possible to have too many pair of jeans?
The MYA jean is the perfect pair of jeans to put on with a big sweater and boots. Sometimes a soft cozy pair of jeans is the critical comfort jean in these cold months.
Although these jeans are soft and have some stretch they still look like good ole dungaree denim. There's no JEGGING vibe going on here.
And I love the understated details of the brand marketing that Articles of Society incorporate into their denim. I find it to be alluring and understated.
Wantable December 2017 Review
COA / Striped Side Knot Top – Purchase Price:$82.00
Right…82 buckaroos?
Alright so this is not a price tag I'm willing to pay for a top. Especially a black and white striped top with several matching doppelgangers chilling in my closet.
However, it's important to note a very unique details this black and white striped top offers. That side knot. See how cute that side knot is???
The knotty twist creates a sort of curved bell at the hem of the shirt tail which is really adorable and adds some flair and unique detail.
And it's just about the softest textile you could ask for. Very lush against your skin.
Wantable December 2017 Review
RD Style / High Neck Sweater – Purchase Price $72.00
Do I even need to say it…. I LOVE THIS SWEATER!
LEt's just get this out of the way, anything chenille, is perfection. Chenille gets a bad rap…but I for one ADORE chenille! Chenille Lover Rejoice!
It's a loose turtle neck yet kind of boxy. That means you have the option to puff the neck up  so it's more "turtle" than "cowl".
It's the perfect sweater to pair with jeans, pants, skirts, whatever!!!!
The yarn is a super black with a white "pearlescent" through it. It's absolutely gorgeous and so decadent.
Wantable December 2017 Review
Z Supply / Camo League Crew Tee – Purchase Price $42.00
I have a huge crush on this Tee.  And it's perfect to wear with the camo pants I received in a previous Style Edit from Wantable.
The camo print stripe is perfectly placed around the sleeves and neckline.
And the t-shirt is the brightest no see through white ever! It's the most brilliant contrast. Camo can be tricky to incorporate into clothing, but Z Supple does it with perfect ease.
There's no chinsy'ness involved with the fabric selection of this tee.
I wear A LOT of t-shirts and I typically get them from target (have I mentioned target is my spirit animal). This tee is one I am willing to stray from Target on, and splurge!
Wantable December 2017 Review
Meritage / Super Skinny Ankle Moto Pant – Purchase Price: $128.00
Hellooo Moto!
Am I cool enough to rock these pants? Even if I'm not, thanks Wantable for thinking I was!
The fabric is a super Moto black. The fit is a super Moto skinny. These pants are super Moto sleek!
And the bright cool icy silver zippers at the front! Gasp…I soooo want to be this cool. I have moto envy!
Wantable December 2017 Review
W. by Wantable / Boatneck Pullover Sweater – Purchase Price: $58.00
And you thought Wantable just regurgitated other designer's fashions into your closet. NO SIT…they create as well.
This is such a gorgeous sweater. It has the all the right lines in all the right places.  And the color is a beautiful neutral. Neutrals are tricky because without the right amount of contrasting stitch detail, a neutral color sweater becomes an ignored blah beige!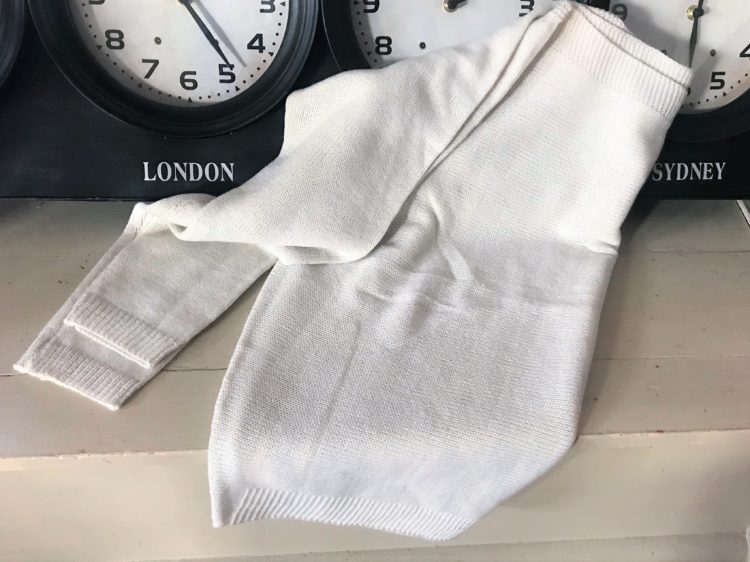 W. by Wantable Pullover SweaterJust look at the sleeve cuff and neckline detail! It makes me want to sing Tiny Bubbles. I don't know…just go with it.
Wantable December 2017 Review
Wantable is so good at knowing what I want, even before I know I want it.
I'm giddy I tell ya!
I look forward to my monthly Wantable subscription,  as in CONSTANTLY.  I actually have to practice self control in order to resist a rush order request while waiting until my next shipment.
How to Order Wantable:
Use this link to signup for the Wantable Subscription Box

What do you think of the latest Wantable?